Easy. Innovative.
Guiding redefined.
MuseumStars offers a ready-to-use multimedia guide platform that transforms your cultural space into a digital experience hub. With minimal effort, create a customized app that brings a new layer of engagement both on-site and beyond. A thoughtful digital mediation solution designed with cultural institutions in mind.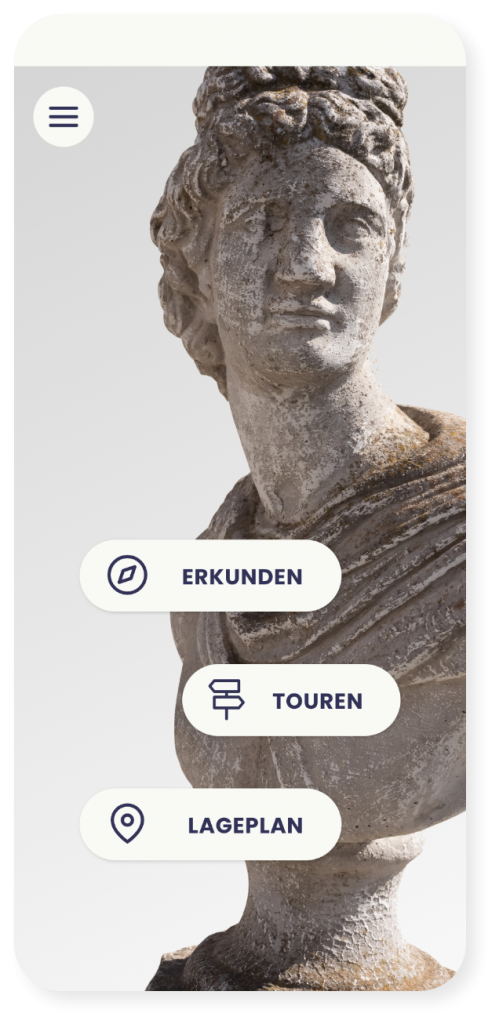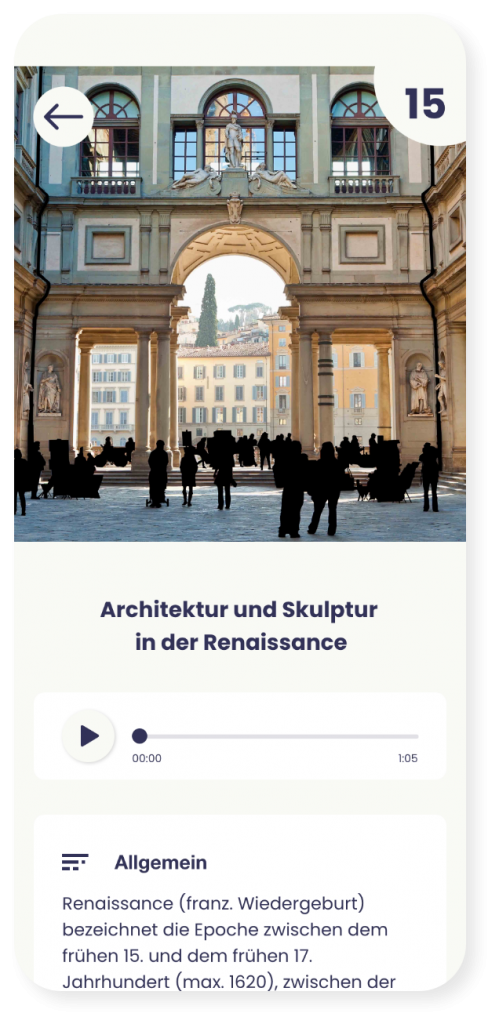 Tailored Experiences, Simplified Implementation
Whether your visitors prefer self-guided exploration or curated tours, our multimedia guide app seamlessly fits into their journey. It enriches their museum experience by blending audio, visuals, and interactive elements, making the visit more immersive and memorable. A personalized companion for your audience.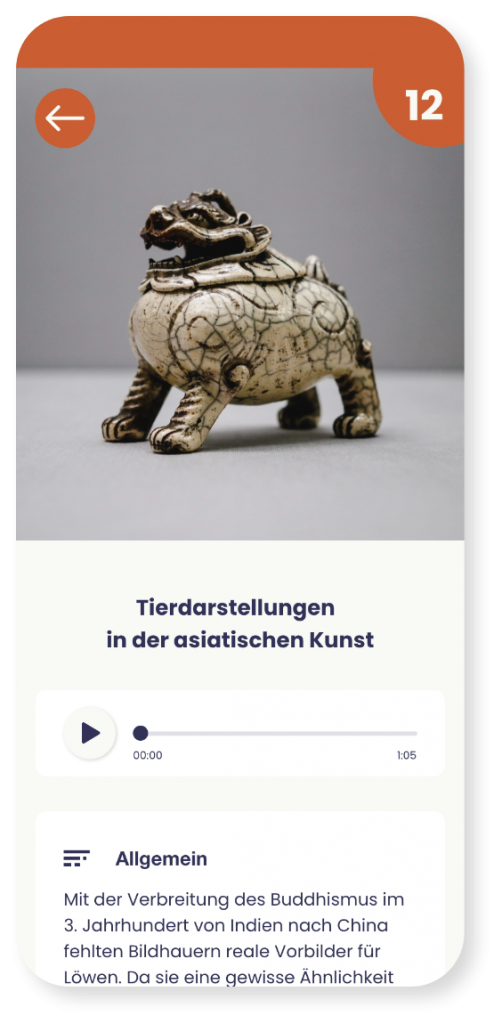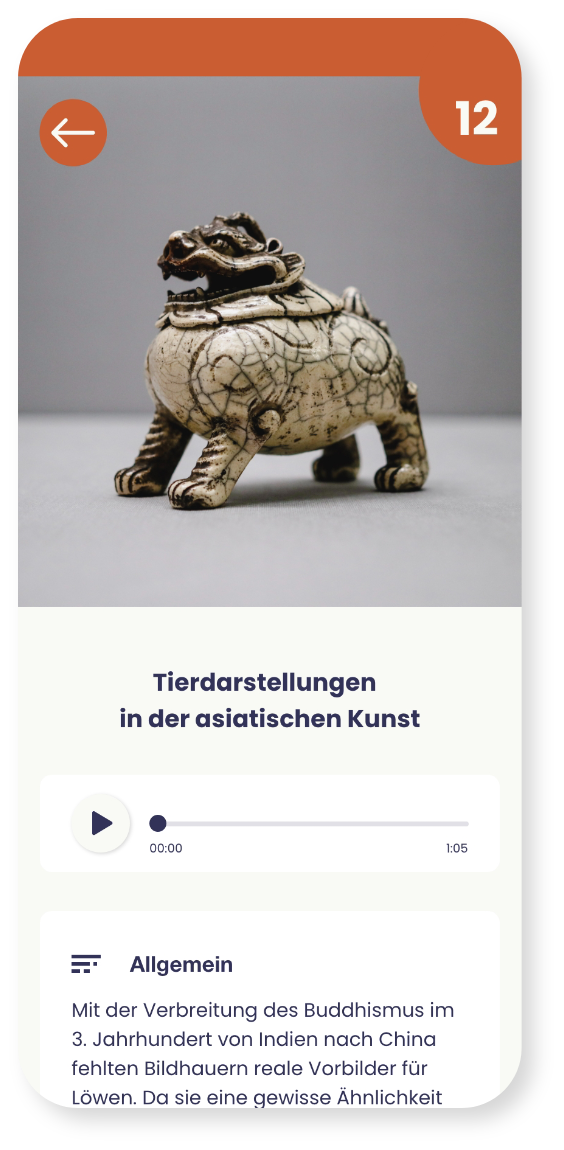 Numpad and QR Codes
Modern number selection with a touch of style – including a preview image. QR Codes offer simple content access via scanning.
Gallery View
Exhibits can be in a list view or an image-centric view, arranged in sections of your choice. Search function included.
360° Videos & 3D Objects
Immerse visitors in a captivating 360° Video experience and explore artifacts in detail with our 3D Object Viewer, providing a unique and interactive museum encounter.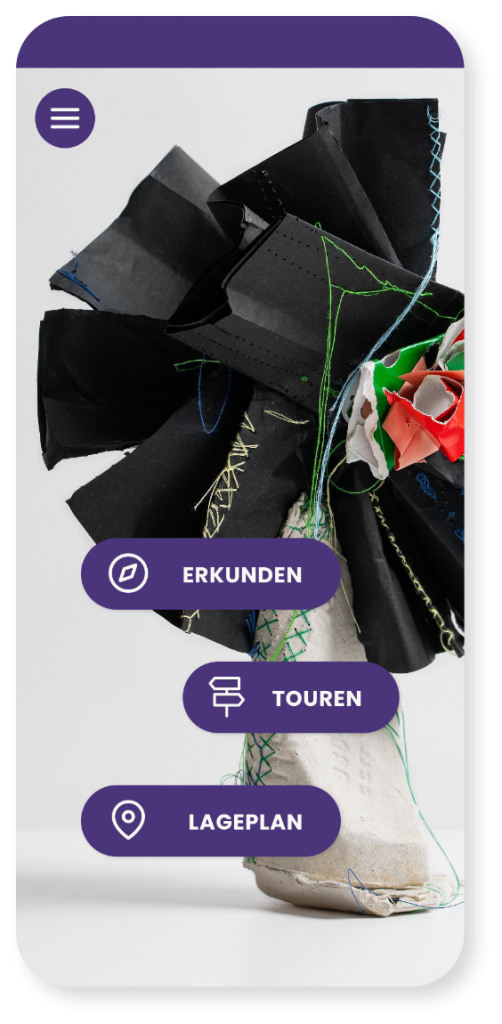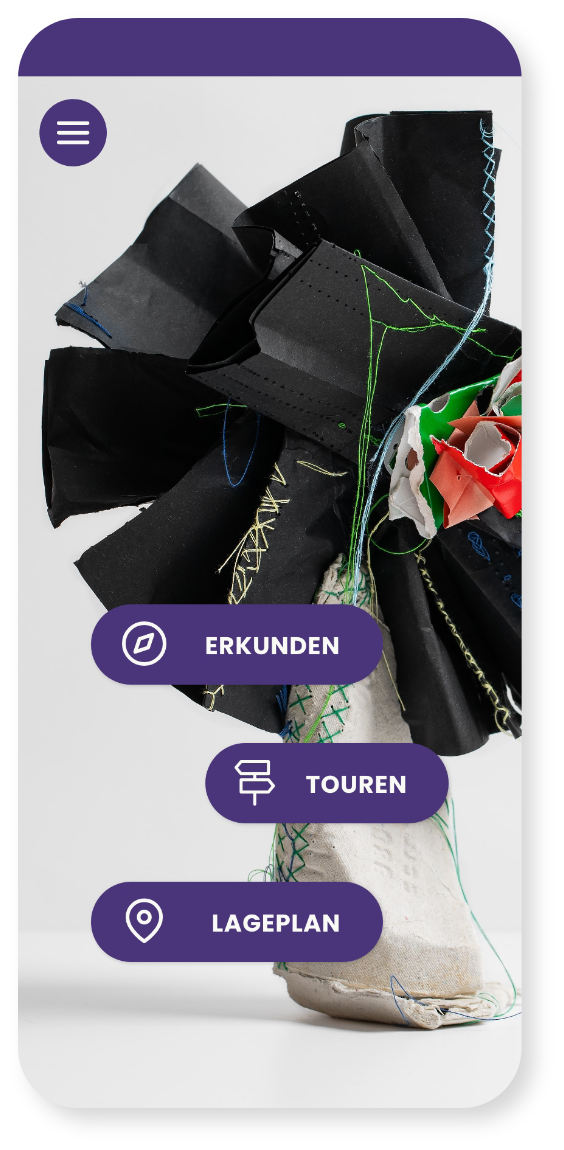 Personalize: A design that fits you
Easily customize your guide with your logo, preferred color scheme, and other parameters in just a few minutes. Your visitor service now effortlessly reflects your corporate look, ensuring a professional and personalized touch to every interaction.
Museum logo
Your institution's logo can be prominently displayed on the home screen and in the top bar.
Highlight Colors & Dark Mode
Customize your guide, select highlight colors and choose between Light and Dark Mode.
Background image
The first impression counts – with your own background image, you determine how it will look.
Interactive floor plan
Navigating the museum is a breeze with the interactive floor plan feature. Visitors can easily find their way around, ensuring they never miss a captivating exhibit. The map also highlights important amenities such as accessible entrances, restrooms, and elevators.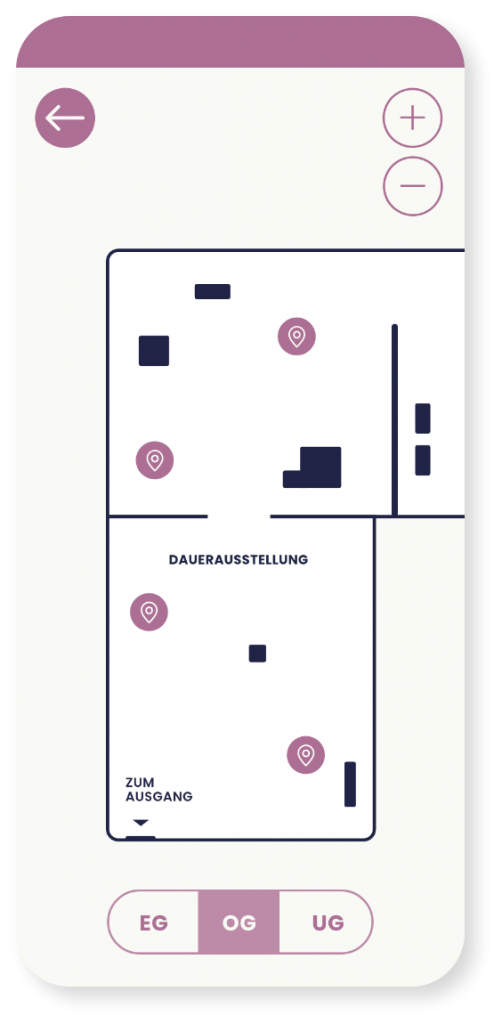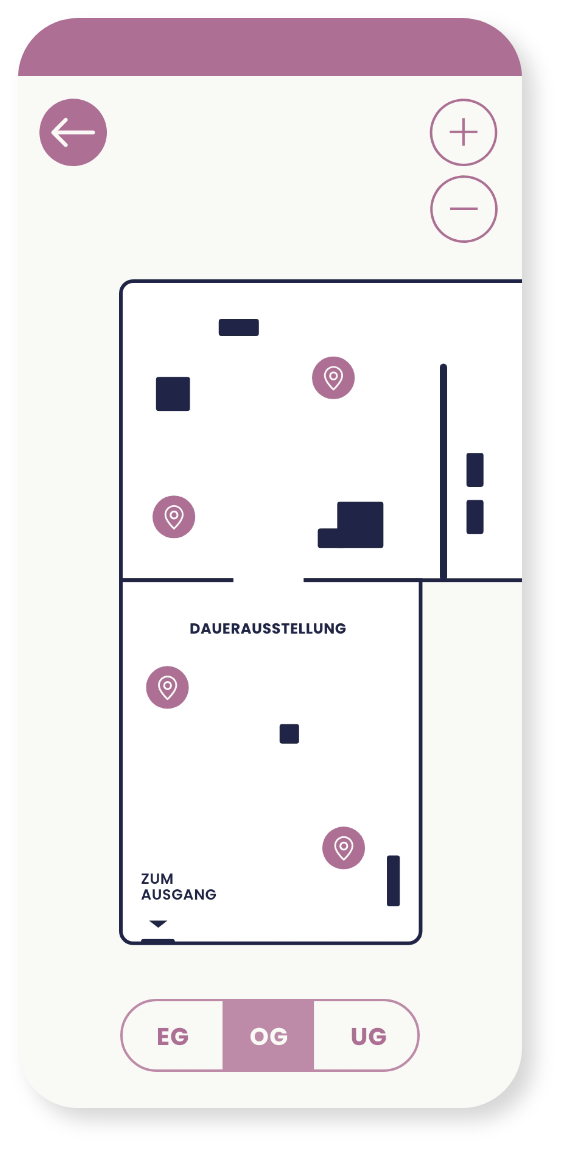 Orientation
Integrate the museum's floor. Interactive map with zoom & pinch functionality.
Exhibits & Infrastructure
In addition to exhibition POIs, service facilities can also be marked.
Easy to create
The map can be uploaded in the CMS and pins are added with one click.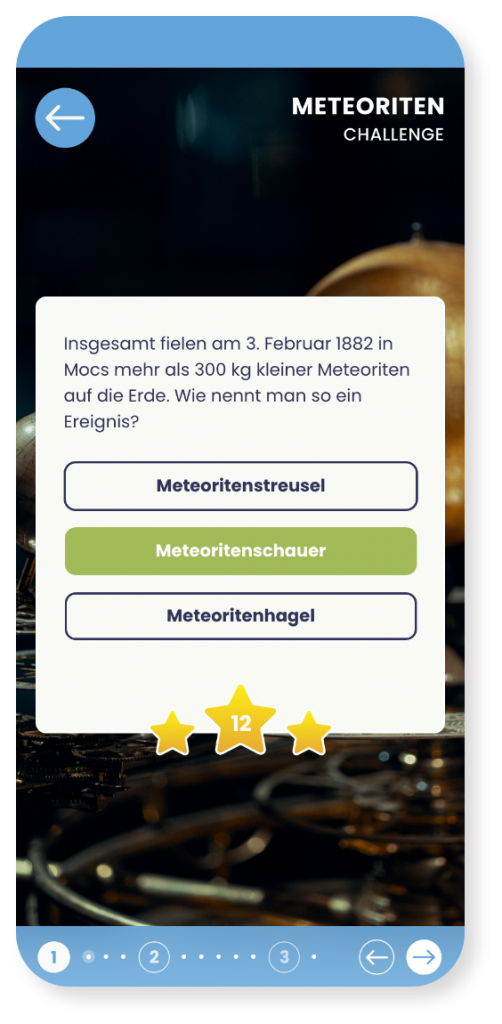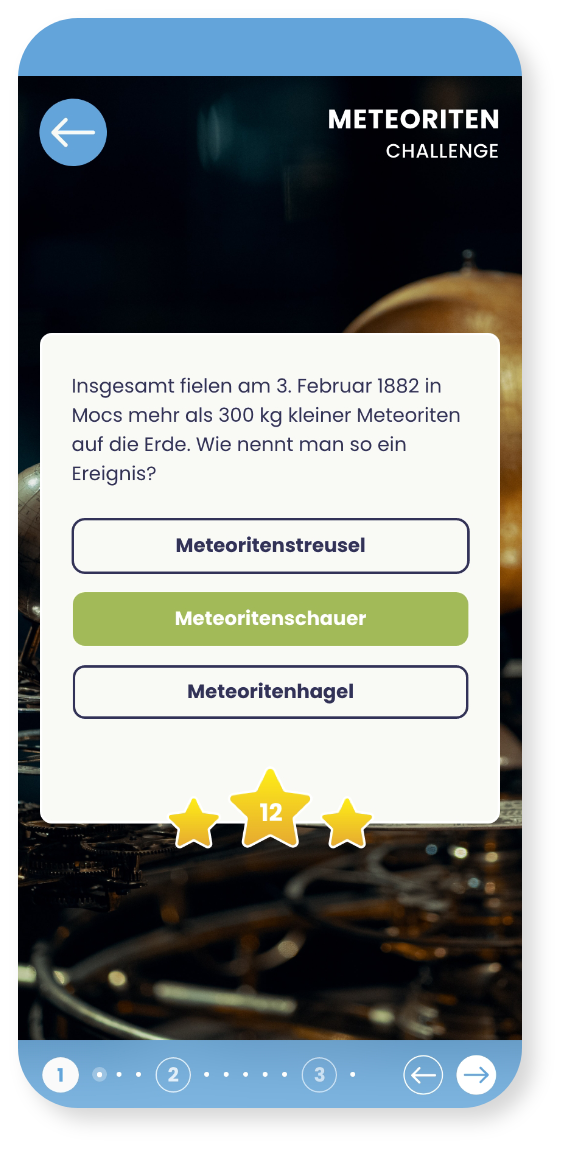 Gamified education – playfully discover content
Quiz tours enrich the visitor experience and can reach new target groups. Interactive tasks motivate visitors to take a closer look at the exhibition.  Use "remote challenges" to bring the museum to the kitchen table or to the park and reach your audience anywhere and anytime, even before the visit or afterwards.
Interactive quiz
Different types of tasks are available (single & multiple choice, estimations, attribution tasks).
Playful learning
App and exhibition together create a holistic comprehensive experience.
Reward system
Motivation is increased by collecting points and leveling up. 
User-friendly content management system
The app can be configured without tech knowledge in our web-based CMS. All content can be uploaded and easily managed by the museum team. An app simulator enables you to preview your app in the browser. Content changes are delivered to users in real time.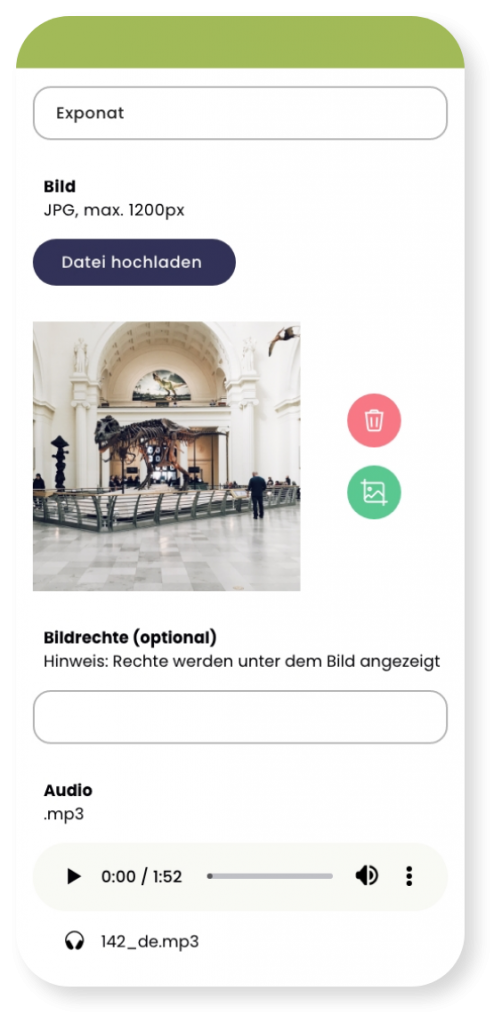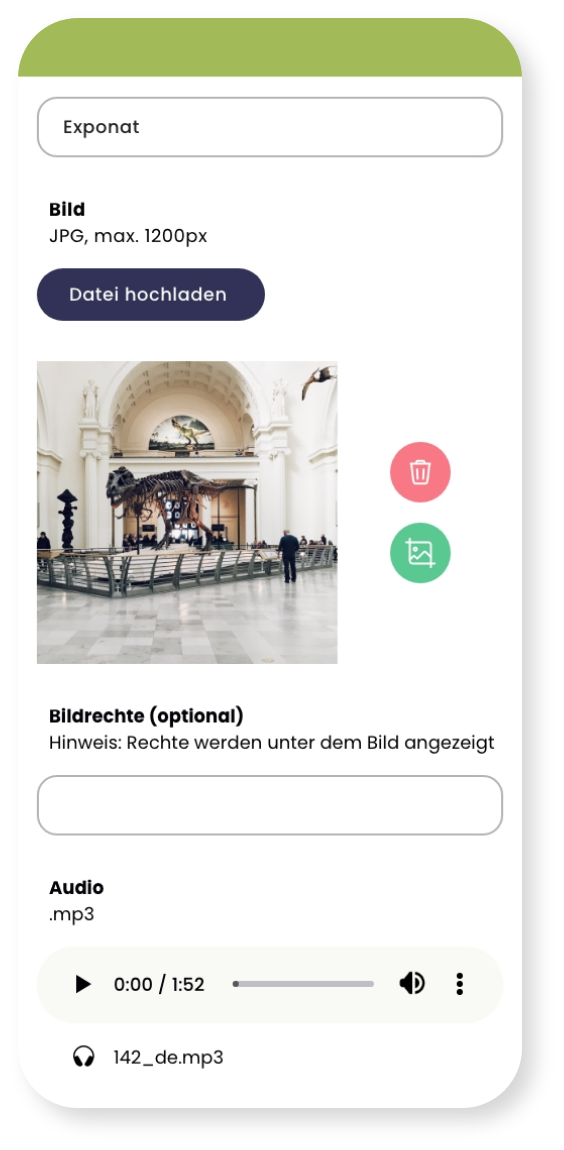 Manage content
Simple and intuitive: You can create and edit your own content.
Design adjustments
Logo, color scheme and other parameters can be easily set.
App simulator
A live preview of the app can be viewed directly in the browser.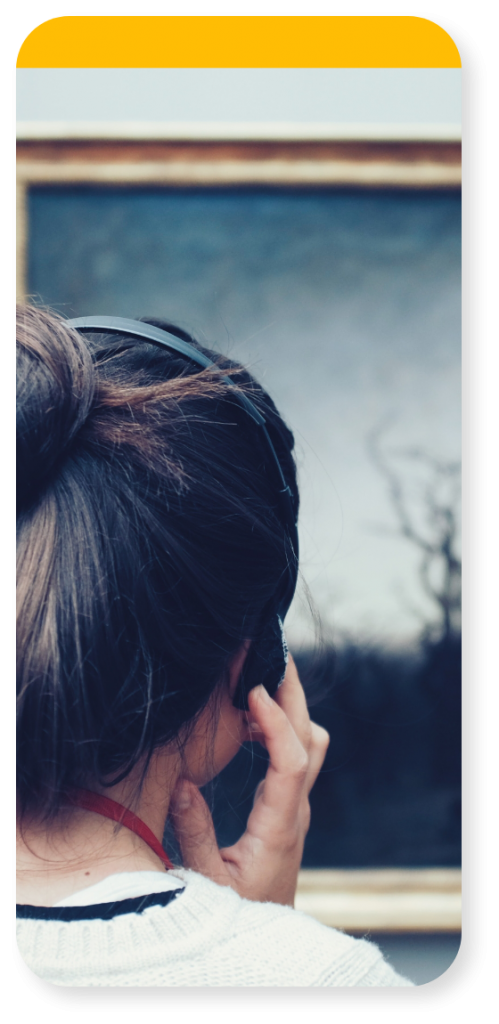 Add-Ons
Enter a world of possibilities with MuseumStars add-ons. Enhance your museum's digital presence with a standalone app. Let your storytelling shine with our expertly produced content and inclusive, accessible offerings. Or take advantage of one-on-one guidance from our dedicated team.
Standalone App
Extend your presence with a white-label solution. Available as your own app store app or web app (PWA).
Content production
From accurate copywriting and translation to top-notch audio production, we ensure high-quality content.
Accessible content
Our offerings include sign language videos, Easy Read materials, and audio descriptions – making your exhibits inclusive and engaging for every visitor.
About MuseumStars
The MuseumStars platform was designed and developed by Vienna-based Fluxguide, an industry leader and specialist in museum apps and digital visitor experiences. For more than ten years, the agency has been designing customized apps and guides for museums worldwide, constantly setting new standards for design and technology. The result of these years of accumulated expertise is the MuseumStars platform as the most advanced mobile mediation experience for visitors, whether on-site at the museum or remote.
Fluxguide moderates the exchange of ideas and experiences among the MuseumStars community and serves as a catalyst for improvement and enhancement ideas from participating museums. The platform is improved in periodic release cycles. The community is involved by voting on the prioritization of further developments. This creates a living system whose innovations are developed from the midst of museum practice.